Dinosaur Party Decor That Will Get Your Party Stompin'!
Does your little birthday guy or gal love dinosaurs? We've got the perfect party ideas to make your dinosaur party a ROARING good time!
We have dinosaur party decor ideas, party treat ideas, party favors, and so much more. 
We've scoured the web for all of the best dinosaur party items. Scroll through and discover the latest and greatest finds for a DINO-MITE birthday party!
DINOSAUR BIRTHDAY PARTY IDEAS:
While you could probably make this on your own, we LOVE this dinosaur cake topper! Make it on yourself, or go the easy route and buy this from the Cat and Amy Shop on Etsy.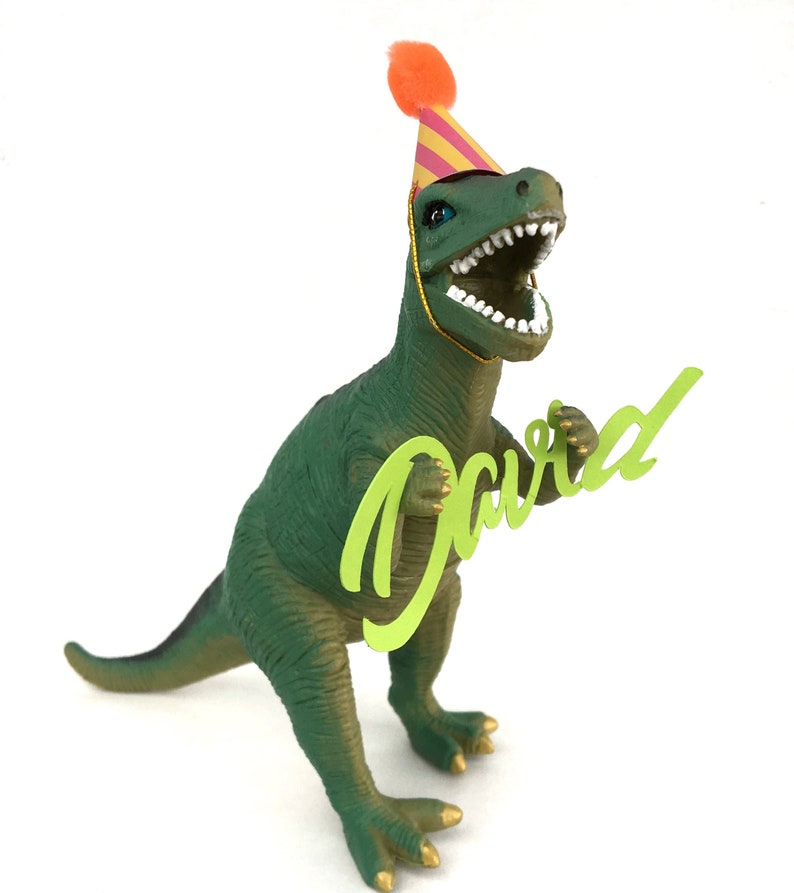 Check out these super cool dinosaur balloons. There are several different Dino options as well as the "ROAR" balloons which we especially love. 
3. Printable Dinosaur Balloon Decoration
These printables from printApartyCo on Etsy are too cute and such an affordable way to decorate in a unique way for your party! Just print, cut, and attach to your balloons. We love this original idea!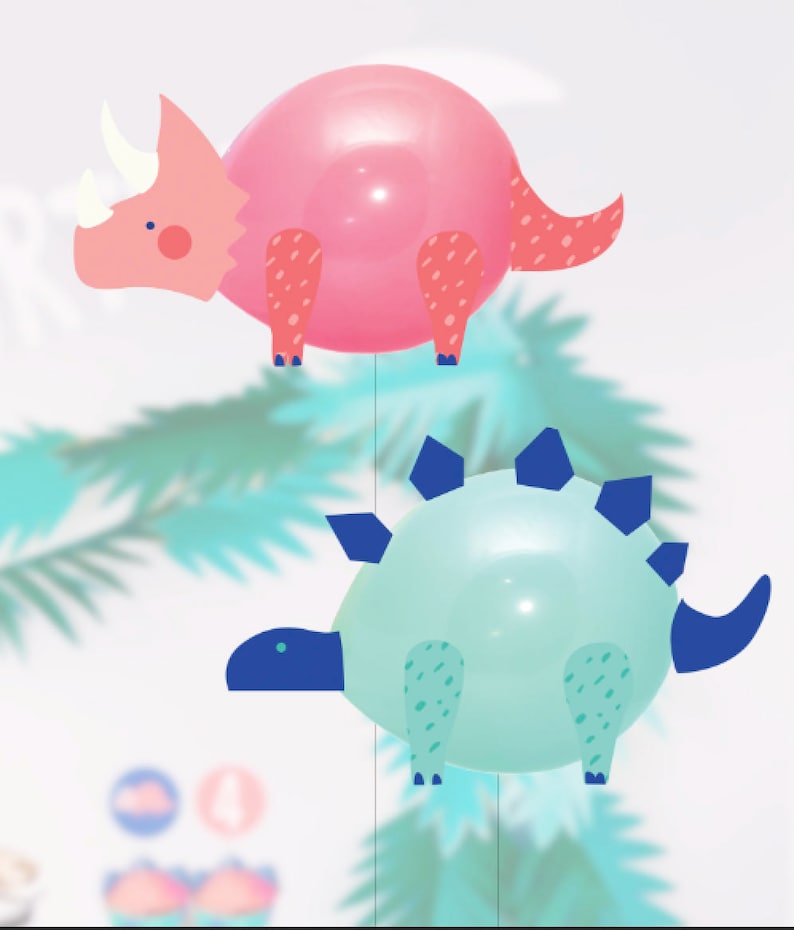 4. Dinosaur Bone Cookie Cutters
How cool are these Dinosaur Bone Cookie Cutters? Simply bake your cookies and then decorate the bone markings left by the cookie mold with white icing. Easy peasy and your guests will LOVE these! 
Speaking of cookies, if you want something a bit more colorful check out these Dino cookie cutters. Another Dino-mite treat idea!
If cookies aren't really your thing and you'd rather do cupcakes, we've got you covered! These dinosaur cupcake wraps are absolutely adorable. We love the bright colors! 
A party isn't a party without lots of treats! So for an extra special DIY treat idea, check out these dinosaur candy molds!
If cake is all you need for your party treats then this easy to use cake topper set might be just what you need. Cakes can cost a fortune, but here's one way to DIY your own cake without your bank account going extinct! I know...cheesy, but I couldn't help it! 
You're gonna need to wipe your face after eating all those delicious party treats. Why not clean up with these ADORABLE dinosaur party napkins?!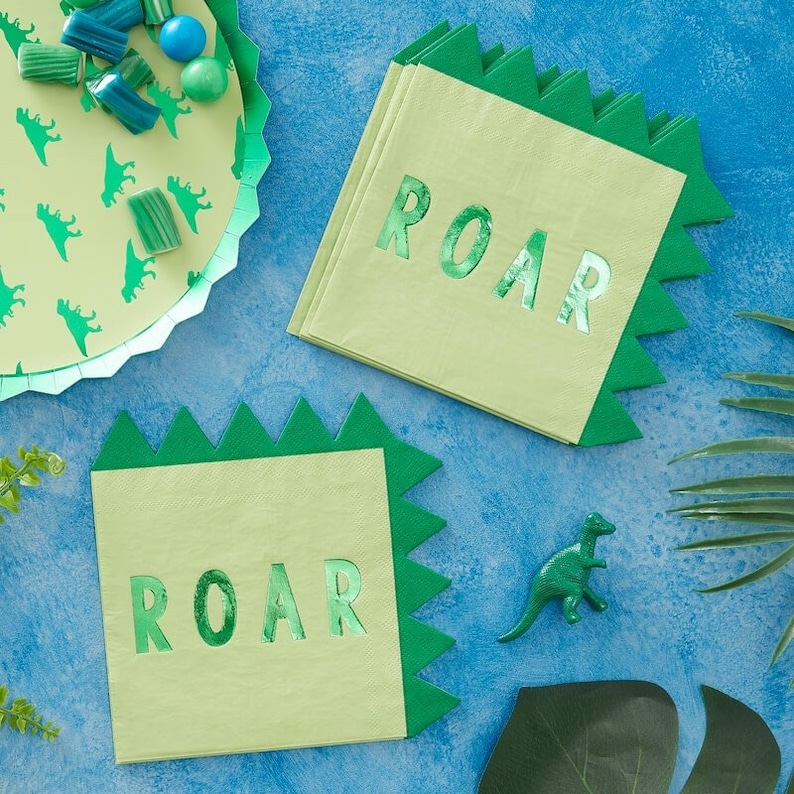 10. Dinosaur Piñata 
Pinatas always feel like a must at children's birthday parties! It's always a major hit! (get it?) How cute is this dinosaur piñata with 3 parts to break for triple the fun?!
These dinosaur foot prints are a great way to show the way to the entrance to your party, or they could just be used as really cute decorations. They are available in multiple color options to match your party decor!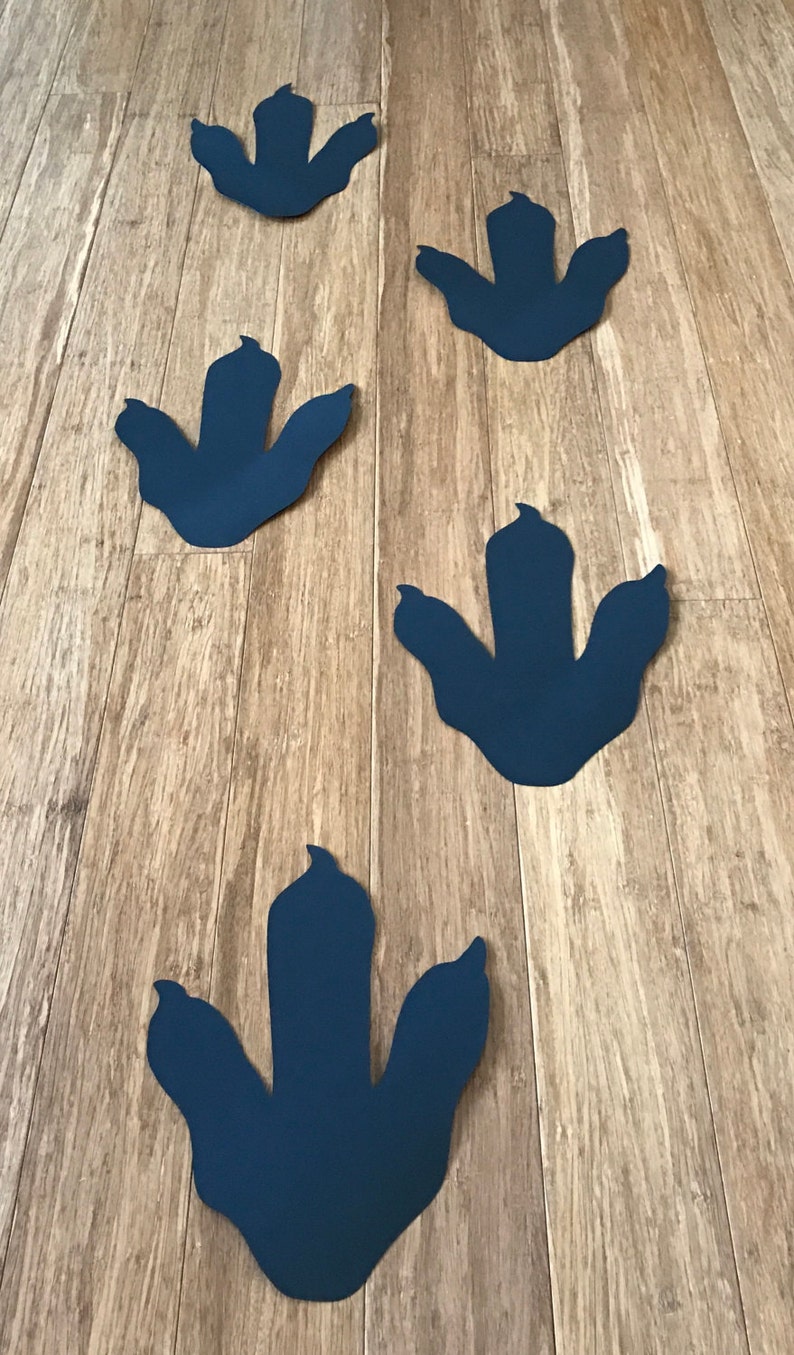 Your guests will slurp their juice to the very last drop with these twisty, turny dinosaur crazy straws!
13. Dinosaur Party Favor Boxes
Now let's talk party favors. Check out these adorable triceratops party favor boxes.
14. Sequined Dinosaur Keychain
The next few items will be party favor fillers to use to fill your party favor box. Your guests will LOVE these sequined T-Rex Keychains!
Every kid LOVES gel pens. Combine gel pens with dinosaurs and you've got a winner. 
Another party favor your guests will go wild over are these super cool dinosaur monster trucks! With all these awesome party favor gifts your guests will be begging to come back to your parties every year!
17.  Dinosaur Shirts for Mom and Dad
Looking for outfits for your dinosaur party? Check out these shirts for mom and dad to match the theme!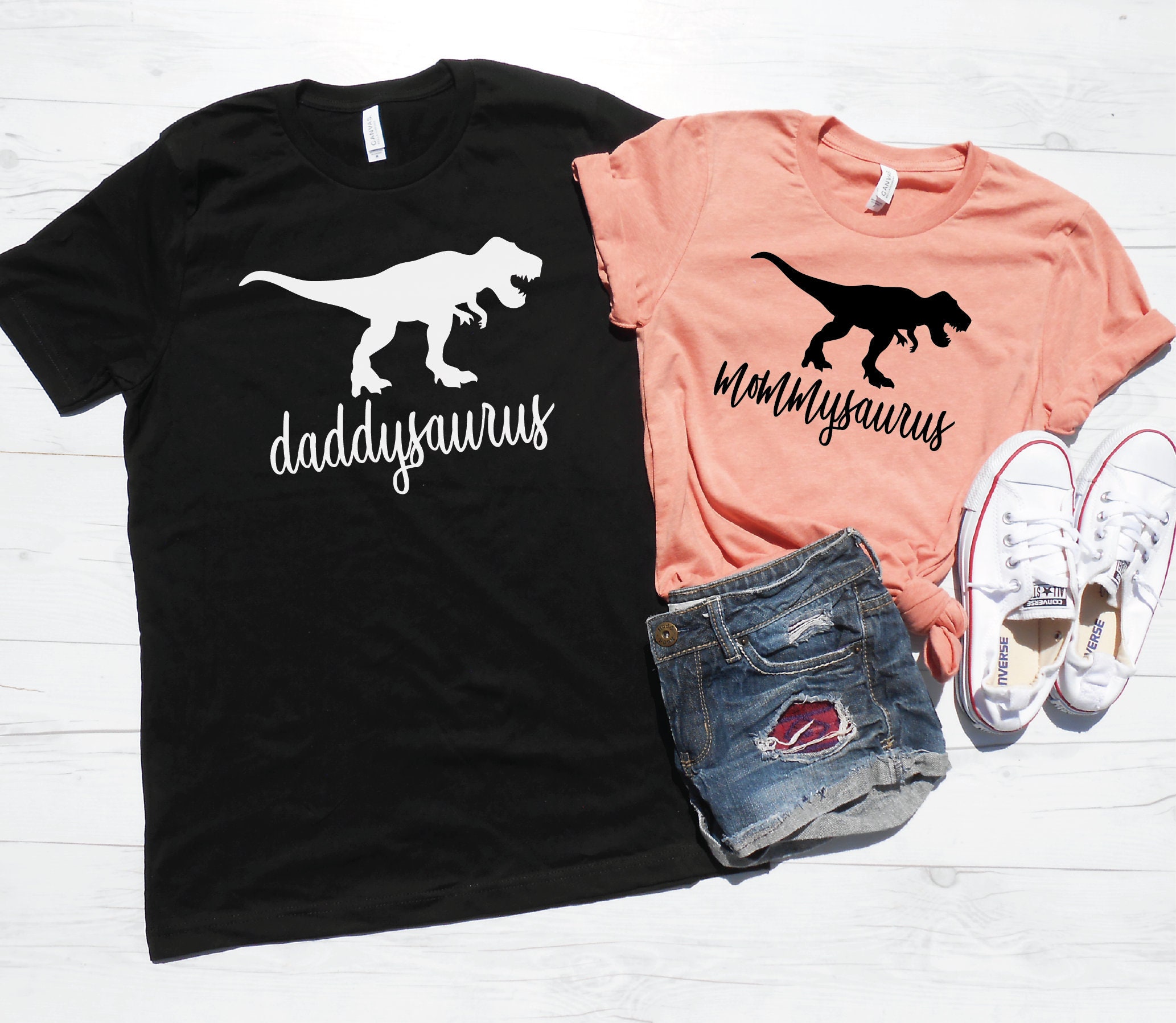 Here's another great outfit idea for mom at your dinosaur themed birthday party - or really, for any day of the week!
19. Dinosaur Shirt for the Birthday Boy
Here is our favorite dinosaur shirt for the birthday boy! Wear it for the party and for the rest of the year!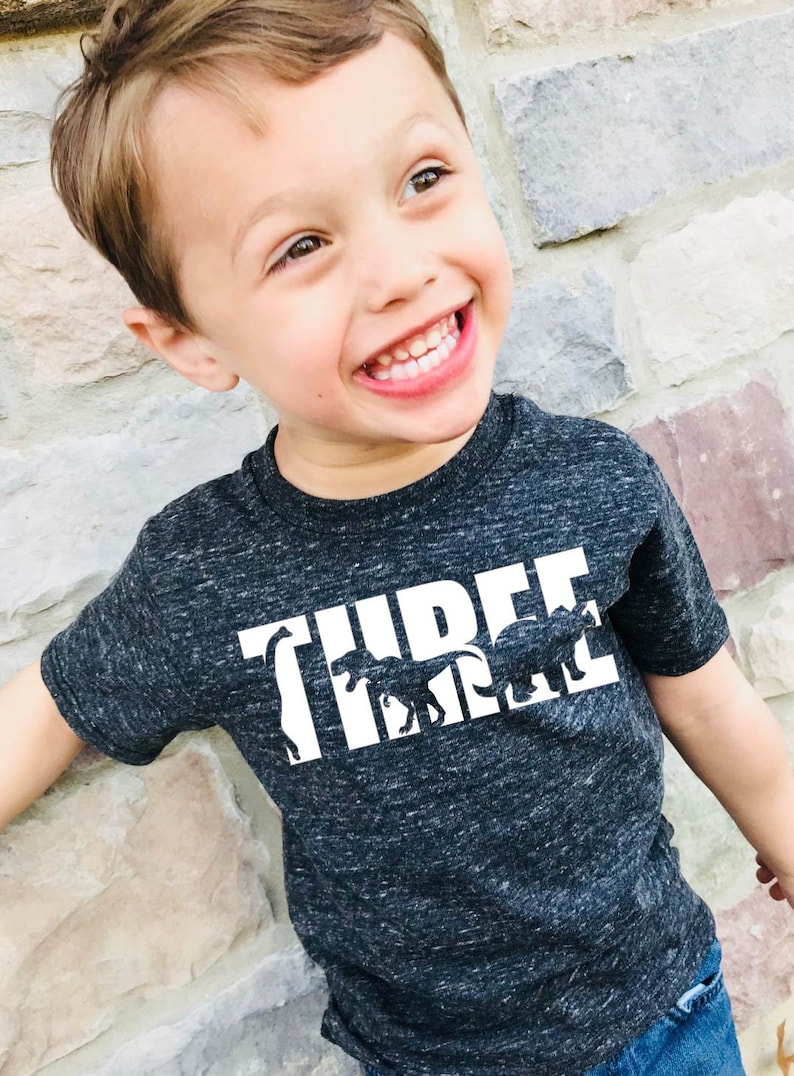 20. Dinosaur Shirt for Two Year Olds
We ADORE this shirt for your two year old! Couldn't be more perfect for your little toddler.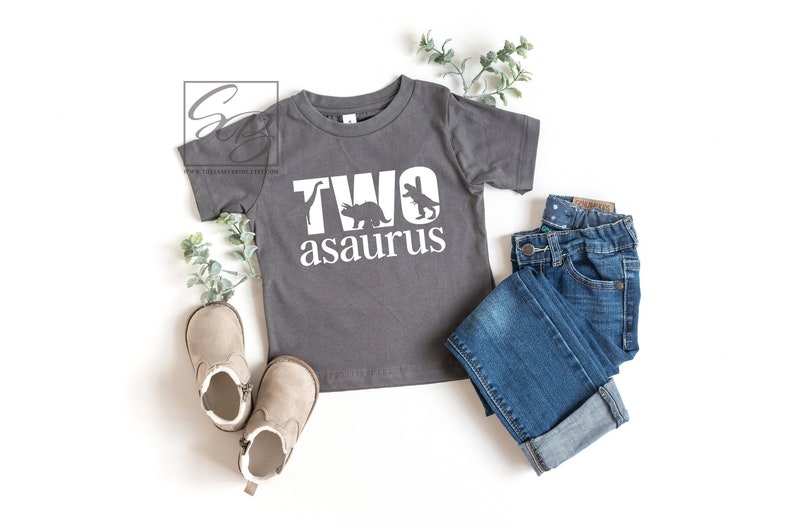 We hope you found something here that will help you create the perfect dinosaur party.
For tons more dinosaur party inspiration, ideas, and DIY tips check out our Dinosaur Party Board on Pinterest!
And be sure to follow us on Pinterest for lots of party ideas and DIY inspiration!
Read more
Comments
✕